Hello, I'm Kiondra.
I like design, code and everything in between.
I have nine years of professional design experience and I love solving problems and creating solutions in every aspect of life.
I've worked with award-winning digital marketing agency, Intuitive Digital, Paper Moon Creative, Brown & Toland Medical Group, and many other small businesses locally and nationwide.
When I'm not designing, you can probably find me enjoying a local restaurant, or at the gym. (Being on computers all day can be brutal!)
Adobe XD
Adobe Illustrator
Adobe Photoshop
Asana
Slack
Google Analytics
Google Search Console
Bing Webmaster Tools
There's always a better way
Work smarter, not harder
Do the right thing
Never stop learning
Question everything
Create happiness
Kiondra has done a great job collaborating on many projects with us. Her print designs and web designs have been exactly what we have needed. She is reliable, quick and fun to work with.
Thanks Kiondra!
Kiondra has been a pleasure to work with. She is both skilled and professional. The ease of communication and her responsiveness to my needs has been impressive.  I am very happy with her work and look forward to hiring her again!
Kiondra addressed all of our non-profit needs in a professional, timely and most importantly, friendly and easy going manner. She worked with our board on every aspect of web design… Our board could not be happier with the final product. She made it so easy.
What work do you like to do?
I like the stuff most 'designers' think is boring – building out WordPress sites, setting up websites, auditing, implementing tweaks & fixes, formatting content, etc…
What do you do when you're not working?
Go to the gym, try new restaurants, help people with design, and techie questions on Reddit, hike.
What is your MBTI?
I am an INTJ. That makes me basically a unicorn since INTJ's form just 2% of the population, and women of this personality type are especially rare, forming just 0.8% of the population.
(I) Introverted (N) Intuitive (T) Thinking (J) Judging
You can find more info here.
What is your CVI?
My Core Values Index is Innovator-Banker. You can find more information here.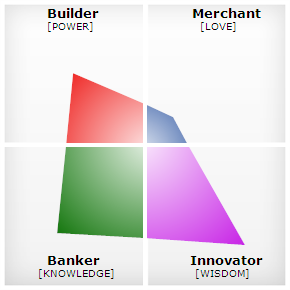 What is your DISC?
My DISC profile mimicks others. I'm very high in (C) Concientousness and (S) Steadiness, and very low in (I) Influence and (D) Dominance.